EPM DayZ RCon Tool 1.0.0.3
Zugriffe: (1450) Downloads (395) Letzter Download: Samstag, 23.Jun 2018 - 12:36 Uhr
Vorheriger Download | Nächster Download
Beschreibung: Current Features:

Resizeable and easy to use Chat/Log Box with 3 tabs (All, Chat, and Log) and a search function.
Resizeable and sortable table of players.
Send global message.
Send private message to player.
Ban player with variable length. (Works even if they disconnect while you're typing your reason)
Kick player.
Add ban.
Reload bans.
Table of bans.
Remove ban.
Favourites.
DNS Support.
Shutdown.
Restart.
Reload Scripts & Events.
Log saving.
Toggle-able timestamps.
Lock & Unlock.
Get and set Max Ping.
Global database of players.
Local database of players.
Auto log saving.
AutoUpdate!


1.0.0.3
-Removed more old code
-Rcon is correctly detecting disconnects / lost connections
-Updating UI correctly on disconnects
-Fixed a threading issue causing playerlist updates to fail.
-100% cpu usage should be fixed once again.

1.0.0.2
-Removed more old code
-Moved code over to make use of the new .net 4.5 async features
-Fixed the banlist not showing
-Fixed the playerlist not refreshing correctly.
-Auto Updater checks ever 1 hour rather than ever 15 seconds.

Standard Release
- Fixed Global DB loading issue.
- Fixed Private DB .
- Cleaned up Database Code.
- Removed BattleNet dll.
- Cleaned up more code.
- Fixed an issue that caused the rcon to crash on close.
- Removed old player location code.
- Added error logging
- Cleaned up the updater.exe

Beta 0.9.9.9
Currently writing up the changelog
Will be added soon!

Beta 0.9.9.7
- General Code Cleanup.
- Added the ability to reload scripts and events at the same time with a single button press.
- Added the ability to clone existing favourites.
- Changed some DNS settings for the global DB and our auto updater.
- Fixed a bug with the Notifications being triggered by admin messages.
- Added the ability to scroll through previously sent chat messages.
- Added country locations of players in the players table.
- Fixed a bug that caused the rcon to run with a 100% CPU Usage.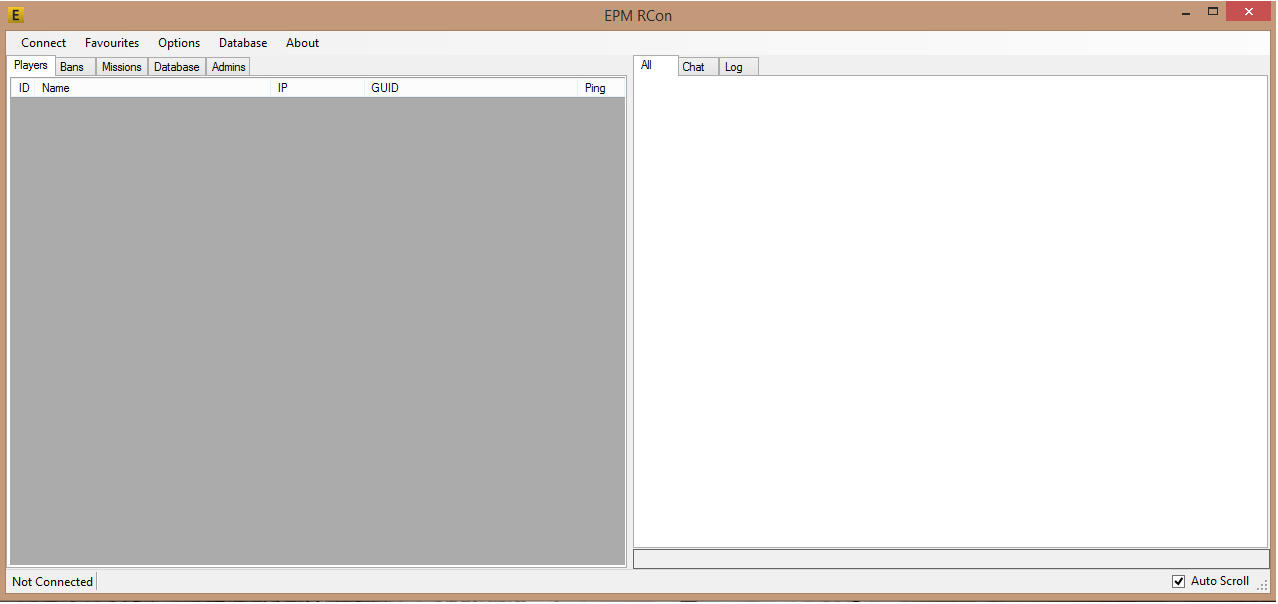 ---
Mittwoch, 10.Jun 2015 - 11:19 Uhr

Bewertung: Dieser Download wurde noch nicht Bewertet.

0 Mitglieder und 1 Gast schauen sich diese Datei an.