DayZero 1.1.4 inkl. Podagorsk
Zugriffe: (1772) Downloads (389) Letzter Download: Freitag, 15.Jun 2018 - 12:46 Uhr
Vorheriger Download | Nächster Download
Beschreibung: DayZero 1.1.4 inkl. Podagorsk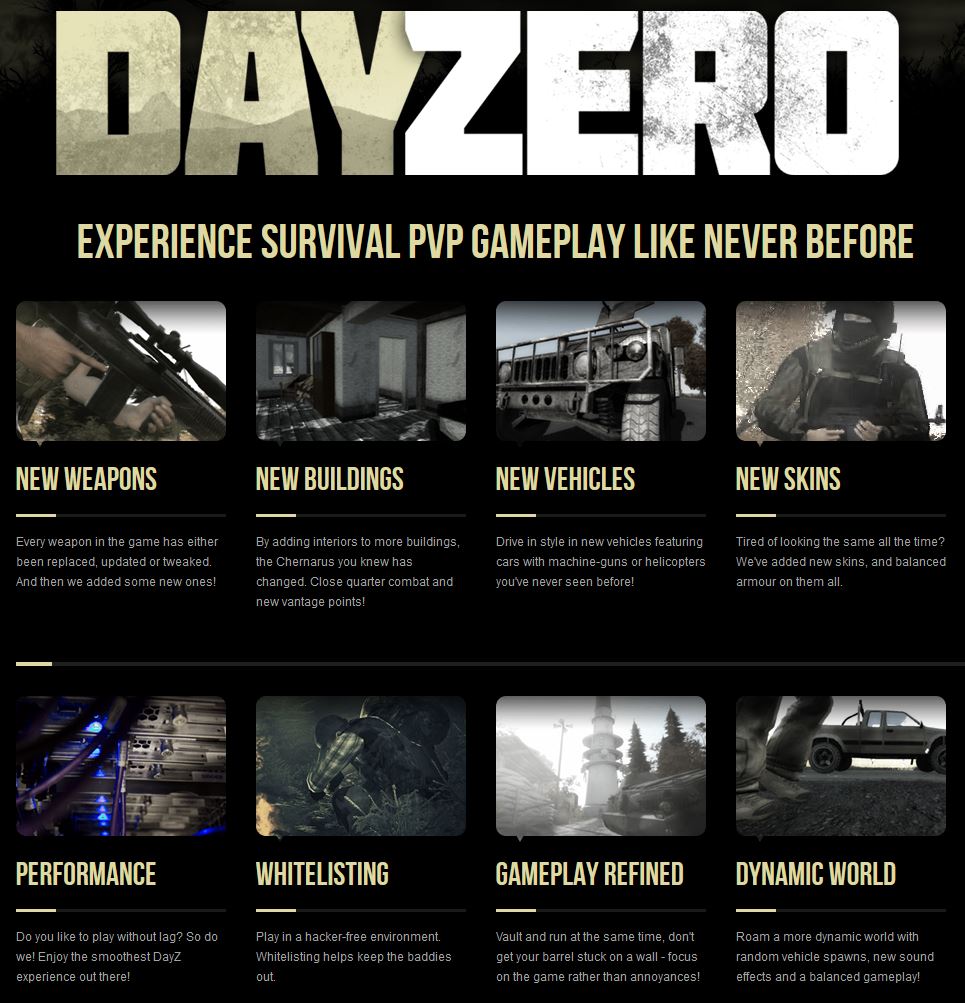 Release Notes - DayZero - Version 1.1.4

Bugs fixed:

[DZ-75] - Glider stuck in the ground.
[DZ-121] - Parts/Bandages/Morphine disappears if you abort usage.
[DZ-122] - "Destroy it" does not work on crates and tents.
[DZ-124] - Bad FPS since patch 1.1.
[DZ-141] - Garage at NWA should be global object.
[DZ-142] - Remove wire fencing kit from loot table.
[DZ-144] - Concrete walls at NWA should be global objects.
[DZ-147] - Tents and crates spawn too often.

Improvements done

[DZ-82] - Don't immediatly delete destroyed vehicles in database.
[DZ-125] - Tents/Crate spawn rate is too high.
[DZ-127] - Remove tables and chairs, which atm provide a safezone.
[DZ-140] - Increased chance to find ammo on soldier zombies.
[DZ-146] - New soldier skins for NATO barracks.
[DZ-148] - New vehicles: Kamaz trucks.
[DZ-149] - New vehicles: UAZ jeep variants.
[DZ-150] - New vehicles: Cessna 185 aircraft.
[DZ-151] - New vehicles: Bulldozers.
[DZ-152] - New vehicles: Taxi cabs.
[DZ-153] - New weapons: HK416 assault rifle variants.
[DZ-154] - Due to more barracks at NWA, lower loot spawn chance.
[DZ-156] - Remove bandit/hero camo skins.

New Features

[DZ-126] - Interior added to another barracks building.
[DZ-143] - Add military version of AN2.
[DZ-157] - UK/US/DE clothing to drop from helicopter crashes.

Tasks completed

[DZ-139] - Remove UAZ 451 addon (Request from maker).
[DZ-145] - Remove G3 from barracks loot table..
---
Dienstag, 24.Dez 2013 - 12:02 Uhr

Bewertung: Dieser Download wurde noch nicht Bewertet.

0 Mitglieder und 1 Gast schauen sich diese Datei an.