Beschreibung: Origins Mod 1.8

Origins Mod, the new ARMA II mod inspired and based on highly modified version of DayZ Mod. Fight to survive in the harsh apocalyptic Taviana map, fully redesigned, making room for a wide range of new features and twisted survival elements. The world has gone to hell and you're right in the middle. There is more to life than just surviving, and now you have a purpose. What is this infection that has spread across the globe? Why are the dead walking again? Is there any hope in putting an end to this?

There is only one way to find out, grab what supplies you can and get exploring.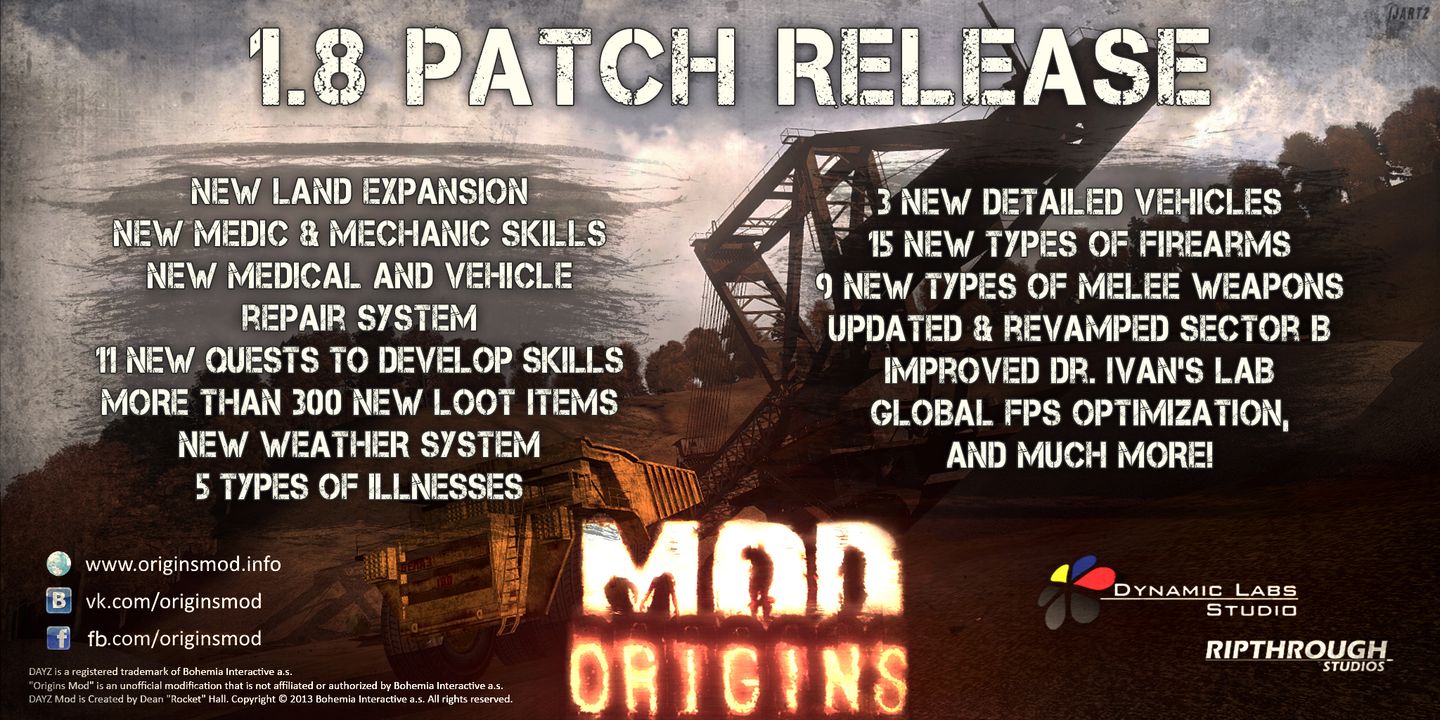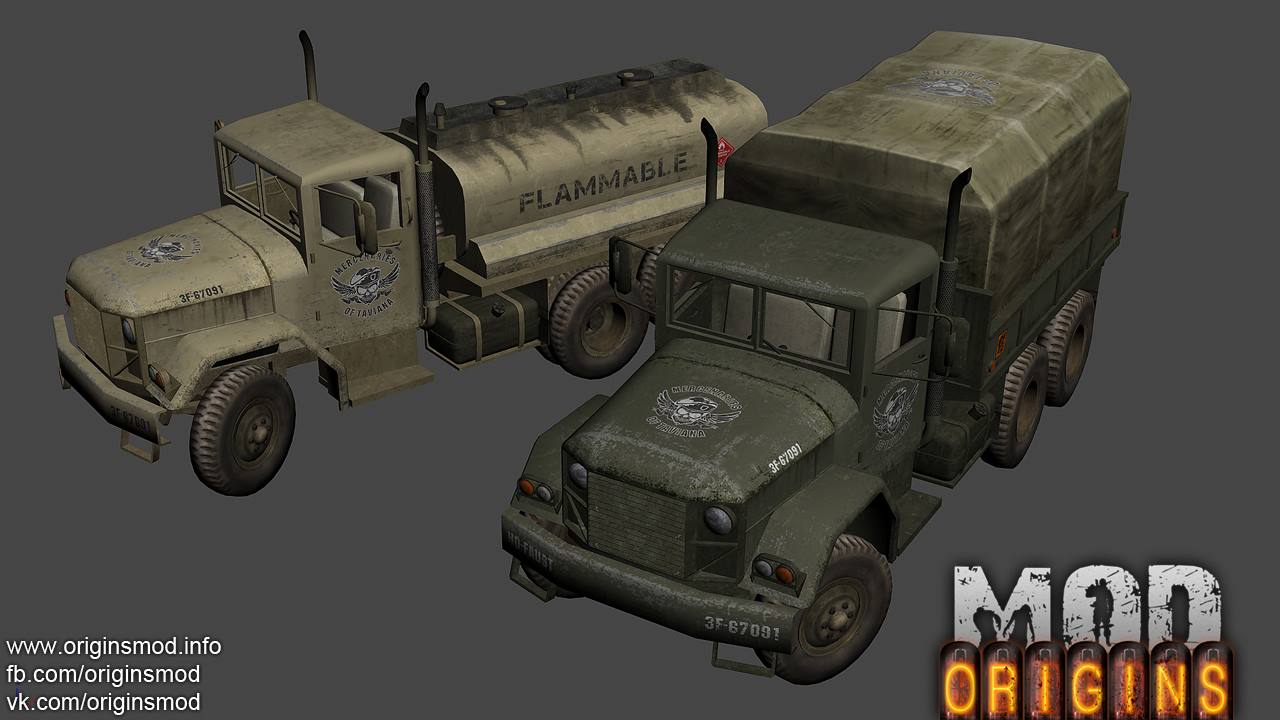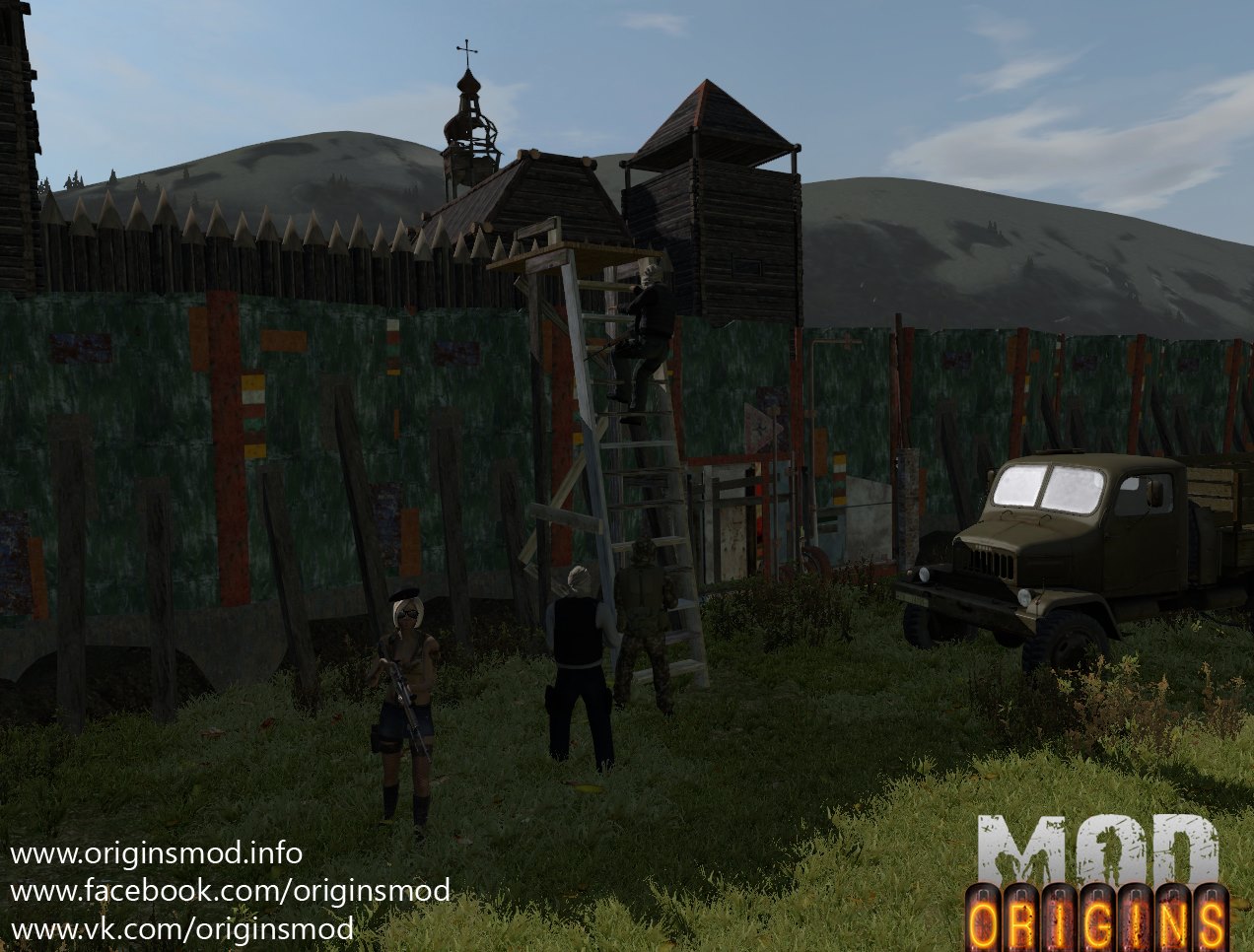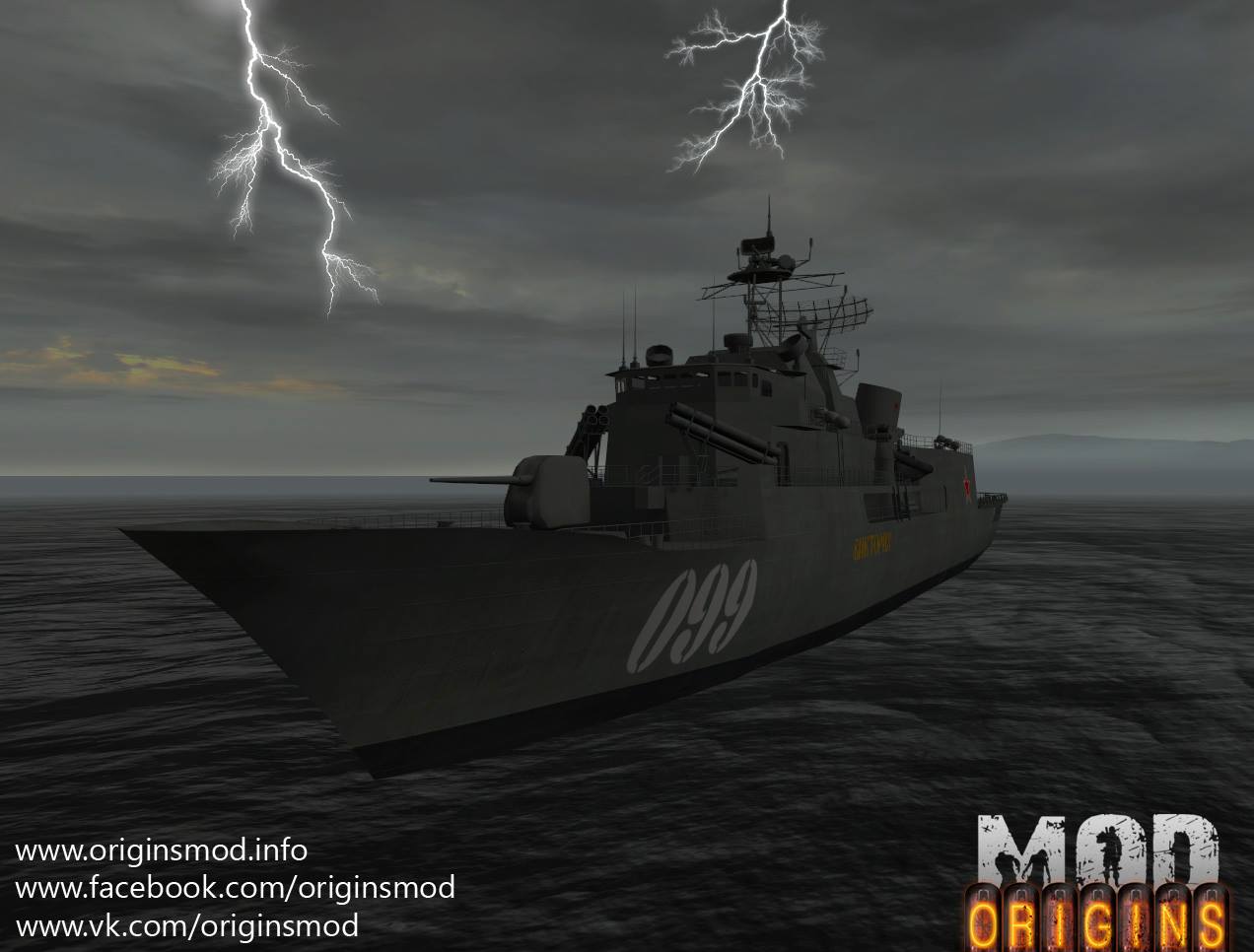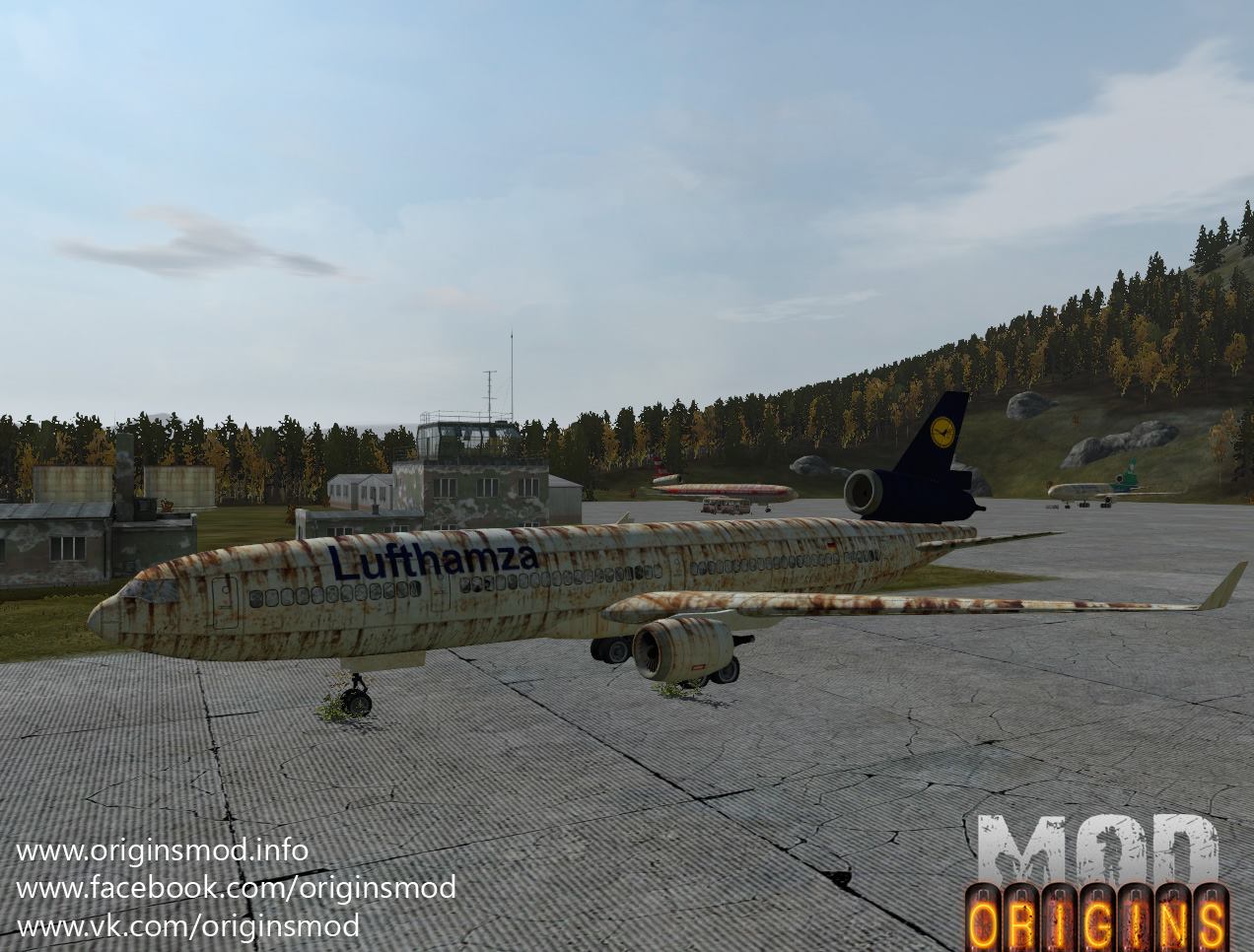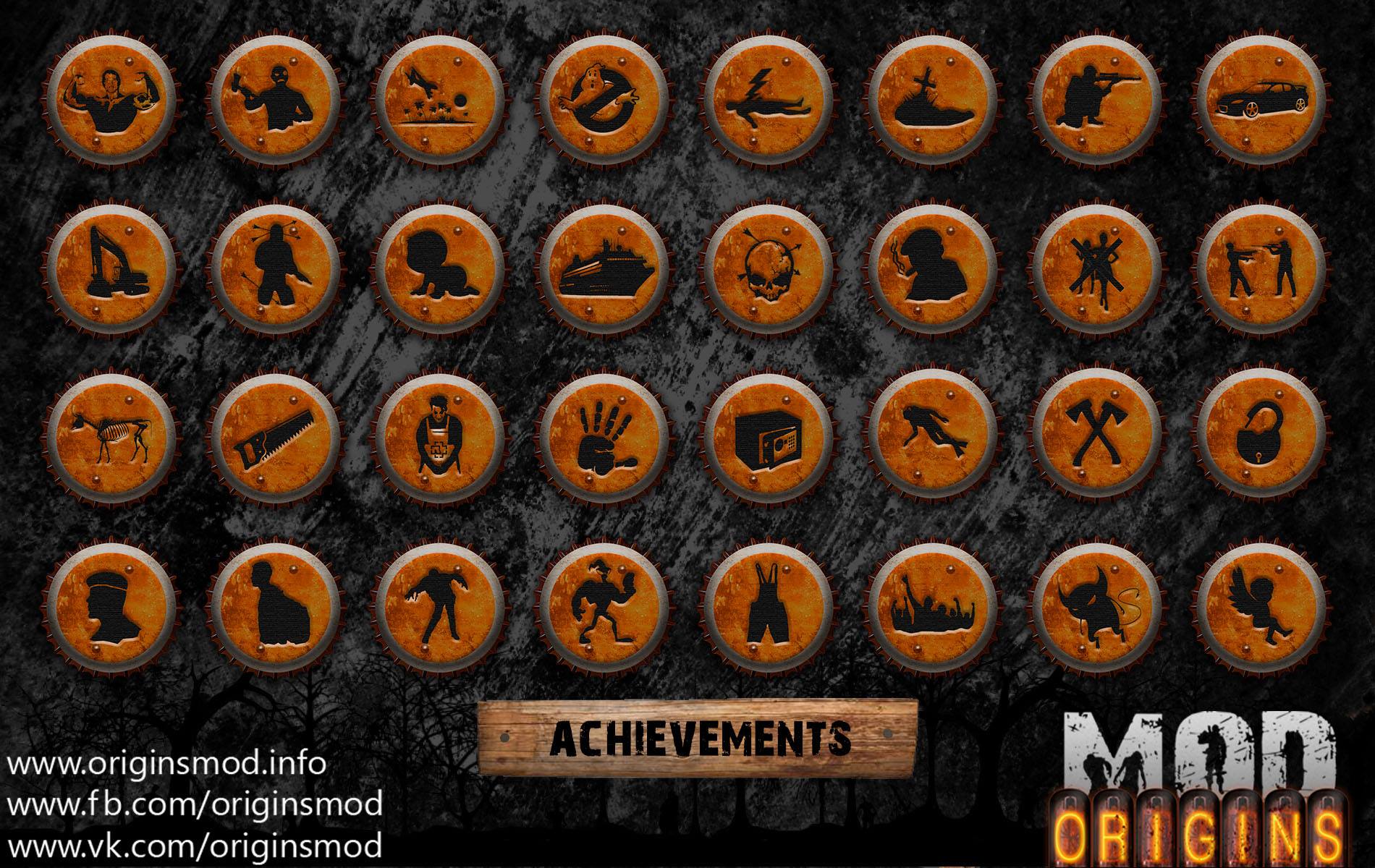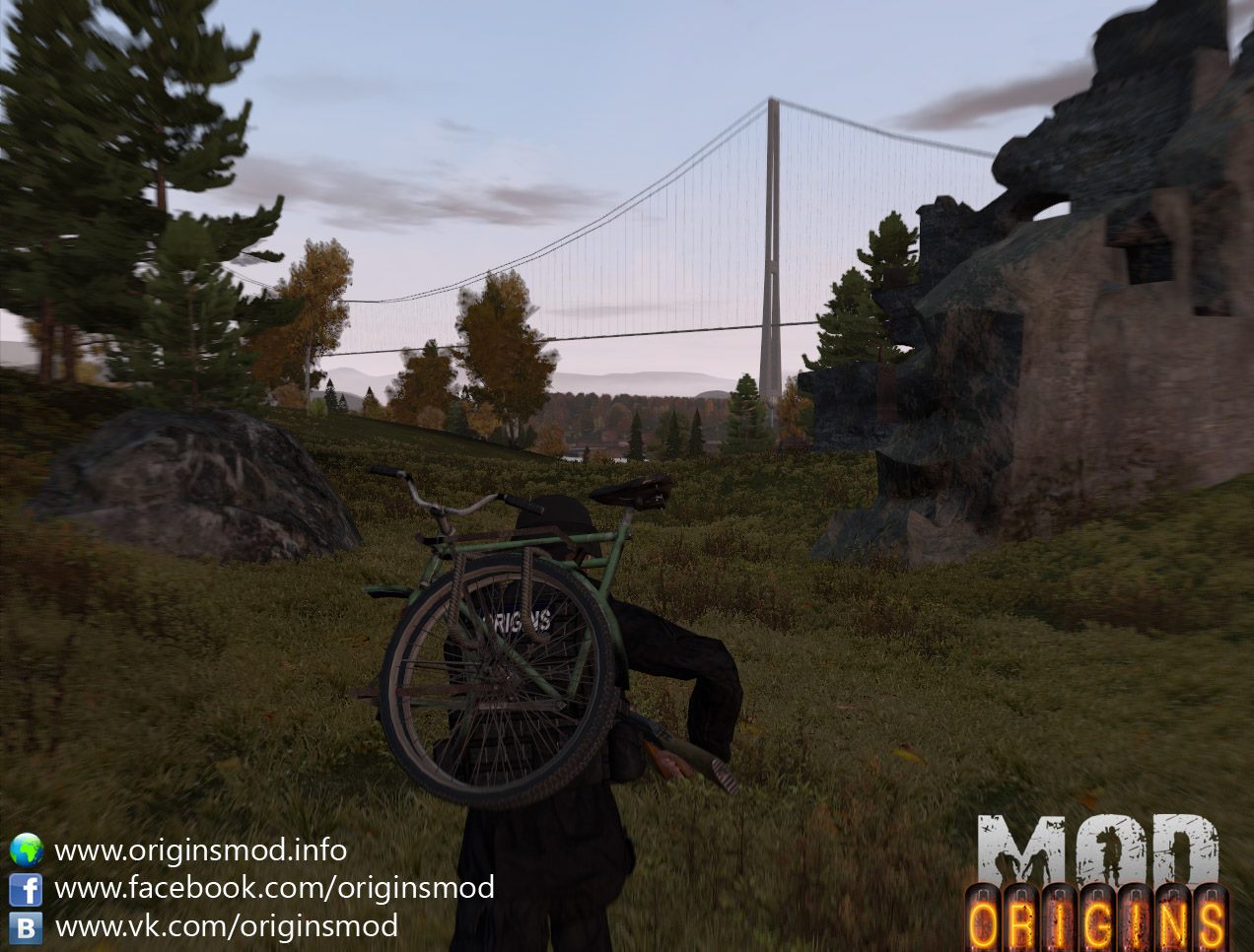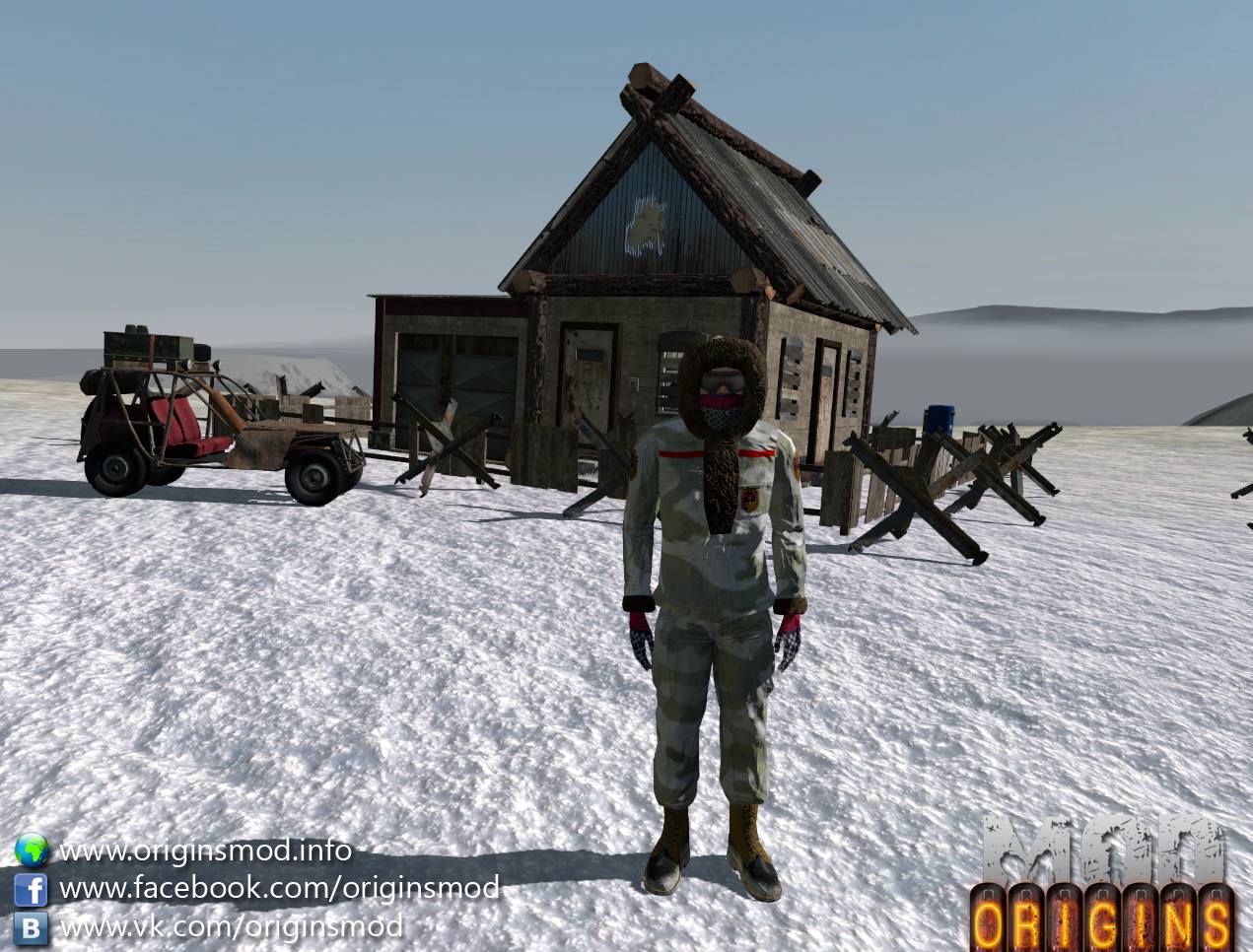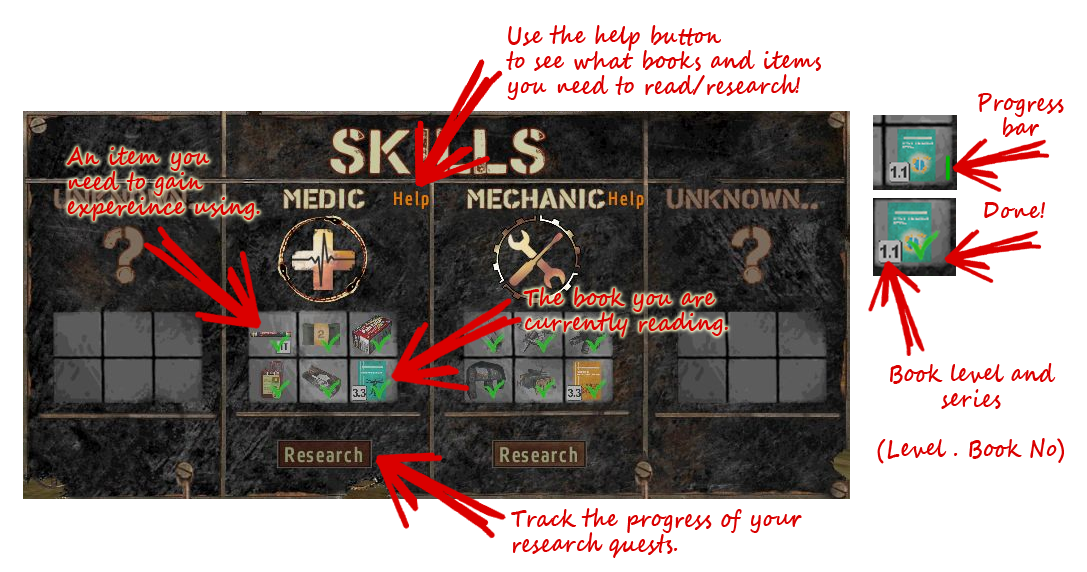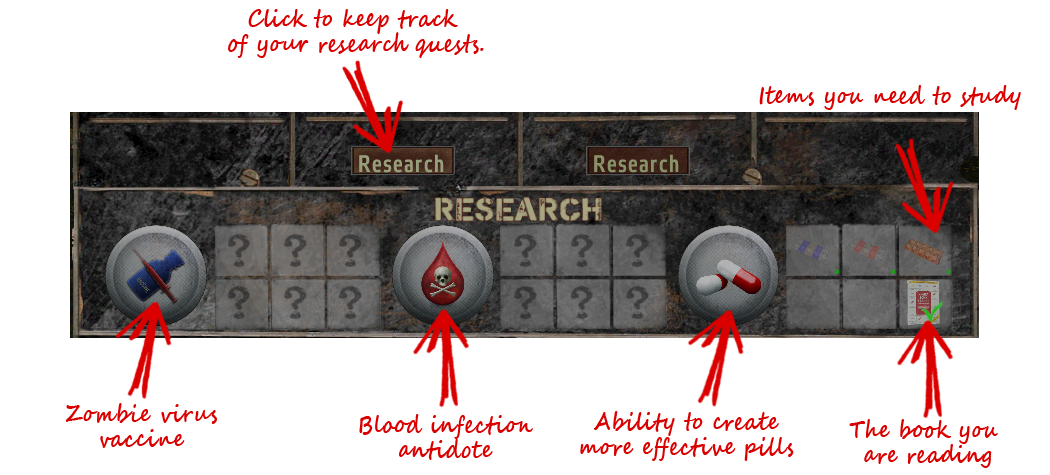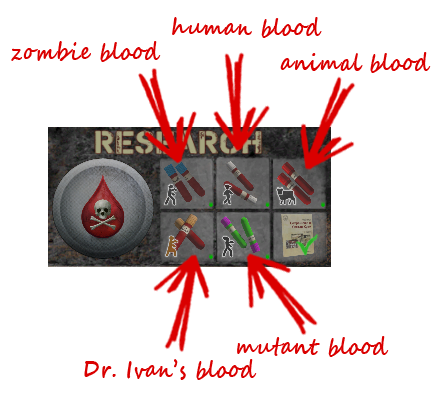 Change Log:

Hinzugefügt:

Gaika Limousine + Schablonen.
Colonel Zeltwagen.
Colonel Tankwagen.
Neue Landmasse südlich von Byelov mit maßgeschneiderten Gebäuden, Damm, U-Boot-Hafen etc.
Über 300 neue Items (Nahrungsmittel, Getränke, Snacks, medizinisches Zubehör, Fahrzeugteile, Bücher, Werkzeuge und noch viel mehr!
Bier, Wein und Vodka.
Spongebob Rucksack.
Patrick Rucksack.
Neues Medic Skill System + zugehörige Items.
Neues Mechanic Skill System + zugehörige Items.
Neue Materialien.
Neue Krankheiten.
Möglichkeit, sich selber eine Bluttransfusion zu geben.
Schmelzofen + zugehörige Items.
Möglichkeit, neue Verstärkungsmaterialien mit verschiedenen Schutzeigenschaften herzustellen.
9 neue Nahkampfwaffen (Baseballschläger, Schraubenschlüssel, Sense, Sichel, Schwert, Hammer, Spitzhacke, Rohr, Schaufel).
15 neue Schusswaffen (L85A2 Holo GL, M8, M8 + M320, M8 Compact, M8 CQC, M8 Compact CCO, L110A1, M8 Sharpshooter, M8 Holo SD, L85A2 ACOG, L85A2 ACOG GL, AA-12, L7A2 GPMG, G36C SD (camo), L85A2 NVV).
11 neue Quests, um Fähigkeiten zu erlernen.
Klapprad.
Aufblasbares Boot.
Zahlreiche neue begehbare Gebäude.
2 neue Leitern, um über Zäune in Lager zu klettern.
6 neue begehbare Fabriken.
Neue Novistrana Polizeistation-Variante.
Neues offenes Sägewerkgebäude.
Neue begehbare Zerstörerschiffe (ältere Varianten wurden entfernt).
Neue aufnehmbare Zombieteile.
Neuer Metzger-Zombie.
Neuer Mechaniker-Zombie.
Winter-Kleidung.
Maispflanzen.
Neue Tankzüge.
4 neue Flugzeugwracks an den Flughäfen.
Neues Mähdrescherwrack.
Neues U-Bootwrack.
Neues Buswrack.
Muldenkipper und Großbagger.
Neue Umgebungsgeräusche auf Taviana.
Kreisverkehr bei Krasnoznamensk, um das Auffahren auf die Autobahn zu erleichtern.
Behoben/Verändert/Verbessert:
Bluttransfusions-System überarbeitet.
Reparatur-System verändert + zugehörige neue Items.
Sektor B umgestaltet.
Loot auf Sektor B verändert.
Neue MGs auf Sektor B.
Tank-System umgestaltet.
Dr. Ivan's Labor verbessert.
Axtmodell überarbeitet.
2. Stock für Polizeistationen hinzugefügt.
Polizeistationen für FPS-Verbesserungen umgestaltet.
Militärbarracken aufpoliert.
Temperatur-System überarbeitet.
Hunger- und Durst-System überarbeitet.
Wälder komplett überarbeitet (Baumanzahl im Süden Sabinas und Byelov für mehr Performance und FPS reduziert).
Krankheitspezifische Medikamente.
Möglichkeit, Fahrzeugteile abzuschrauben, um sie zu untersuchen.
Schiffe in Häfen nun über provisorische Brücken erreichbar.
Mehrere große Texturen überarbeitet und für mehr Performance herunterskaliert.
Lootspawn-System überarbeitet.
Möglichkeit, durch die Wände in Dr. Ivan's Labor zu schauen, behoben.
Neue Polizeistationen in Byelov und Etanovsk.
Gebäude in Krasnoznamensk überarbeitet.
Falsch positionierte Eisschollen auf Novistrana richtiggestellt.
Fenster aus einstöckigen Läden entfernt, um rein bzw. rausschießen zu können.
Verschieden kleine Objekte in Sabina für bessere FPS entfernt.
Anzahl an Wracks auf der Straße von Branibor nach Seven reduziert.
Bug, dass Helikopter durch Schiffe fallen, behoben.
Bug, dass man durch den Bahnhof in Sabina fällt, behoben.
Problem, dass Zombies die roten Fabriken nicht mehr verlassen konnten, behoben.
Globale FPS Optimierung: Bis zu 10 extra FPS in zuvor problematischen Gebieten (Sabina), aber auch generell mehr Performance.
Bug, dass das FF MG nicht gerade schießt, behoben.
Texturen zum Laden in Martin hinzugefügt.
Verbuggtes Gras um Dr. Ivan's Labor behoben.
Glasröhren in Dr. Ivan's Labor entfernt.
Bug, dass der Tunnel in Sabina die Reifen beschädigt, behoben.
Keine fliegenden Einrichtungsgegenstände mehr.
Bug, das man nicht durch Ecken in Dr. Ivan's Labor schießen konnte, behoben.
Verbuggte Bodentextur in Dr. Ivan's Labor behoben.
Bojen um Bohrinseln überarbeitet.
Bug, dass man bei der Bot Mi-17 den Piloten nicht töten konnte, behoben.
Eine der seitlichen MGs von der Mi-17 Cz gefixt.
Reparaturmenue verbessert.
Buhanka-Explosion überarbeitet.
Anzahl an Straßenlaternen in Sabina aus Performancegründen halbiert.
Löcher in der Begrenzung der Rennstrecke hinzugefügt.
Gewicht der M9-Pistole von 9kg zu 0.9kg geändert.
Bug, durch welchen man durch die Sector B Wände schauen konnte, behoben.
Bug, bei dem Wasser in Seen geleuchtet hat, behoben.
Wasser in Seen überarbeitet .
Soldatenleichen auf Straßen überarbeitet und verbessert, Taviana Army Uniformen eingefügt.
Fehlende Schatten bei Autos hinzugefügt, bei denen dieser zuvor gefehlt hat.
Bug, durch welchen man nicht in Bimmer u.a. einsteigen konnte behoben.
Bug, durch welchen Bots den Schrottbus nicht beschossen behoben.
Bug, durch welchen es nicht möglich war Beifahrer in der Fähre zu erschießen behoben.
Durch den Boboden fallen im Sabina Casino behoben.
Bug, durch welchen man durch Wände in Schule in Nord Branibor gehen konnte, behoben.
Bug, bei welchem ein Helikopter das Dach vom Trebylanka Kraftwerk nicht erkannt hat behoben.
Bug, durch welchen man durch Wände in Schule in Treblyanka NPP gehen konnte, behoben.
Schwarze Texturen bei Zäunen in Molotovsk und Lyubol behoben.
Zombies, welche nicht in den Vladislav TV Turm gingen und Schatten-Fehler behoben.
Bug, durch welchen man durch die Brückenpfeiler in Novistrana schwimmen konnte, behoben.
Bug durch welchen man durch manche Krankenhauswände gehen konnte, behoben.
Bug, durch welchen man sich im Dach vom grauen Hotel verstecken konnte, behoben.
Bug, durch welchen man in einen Raum im Bürogebäude glitchen konnte, behoben.
Krumme Schienen in Sabina entfernt.
Fehlende Texturen, fliegende Objekte etc im Sabina Museum überarbeitet.
Fehlende Textur in Sabina Bank hinzugefügt.
Bug, bei welchem man im Scrap Buggy nicht als Beifahrer einsteigen konnte, behoben.
Unsichtbare Wand im Sabina Parlamentsgebäude entfernt.
Fehlende Schienen bei der Bratislav Brücke hinzugefügt.
Unbetretbare/ungünstig positionierte Container in den Häfen angepasst.
Problem mit Mülleimern in Bar in Sevastopol behoben.
Obshironsk Straßenschild zu Aphshironsk geändert.
Rechtschreibfehler auf Slavyansk Straßenschild behoben.
Fehlende Texturen auf Grabsteinen hinzugefügt.
Bug, dass manche Fahrzeuge nach Beschädigung nicht absackten, behoben.
Bug, dass der Gunner im Scrap Bus nach 100m nicht mehr zu sehen war, behoben.
Löcher in Zaun um Krasnozamensk hinzugefügt.
Falsche Bluttexturen überarbeitet.
Bug, dass man durch Wände im Lyepestok Krankenhaus laufen konnte, behoben.
Missing texture Bug behoben.
Verschiedene Bodenverschiebungen in Sabina behoben.
Bug, dass man neben dem Fahrstuhl im Sabina Einkaufscenter in der Luft schwebt, behoben.
Unsichtbares Haus in Grushnoye entfernt.
Wrack am Anfang der KRK Inselstraße entfernt.
Einsteig-Bug bei Taviander behoben.
Bug, dass keine Upgrade-Möglichkeit bei Zäunen erschien, behoben.
Bug, dass man keine Mitglieder zur Stronghold hinzufügen konnte, behoben.
Bug, dass man die letzte Stage der Garage nicht bauen konnte, behoben.
Bug, dass man durch Pfeiler der KRK Insel Brücke laufen konnte, behoben.
Fliegende Straßenbegrenzungen um Lyepestok entfernt.
Unpassende Schattenmodelle überarbeitet.
Falsche Bodentextur in Dalnogorsk Hangars entfernt.
Bug, dass man durch Wände im Parlamentsgebäude in Sabina laufen konnte, behoben.
Feuerwache in Sevastopol gesenkt, um Beinbrüchen vorzubeugen.
Toilette an der Straße von Lypestok nach Ovisoy entfernt, um dort Lager bauen zu können.
Fliegende Partikel für bessere Performance entfernt.
Bäume aus der Kirche in Alexander entfernt.
Bessere Performance in Alexander.
Unebenheiten und versunkene Gebäude in Kameni überarbeitet.
Fehlende Texturen der Treppen bei Helfenburg hinzugefügt.
Büsche bei Alexander für bessere Performance entfernt.
Verschwinden von Objekten hinter Fenstern/Türen mancher Gebäude behoben.
Rechtschreibung mancher Items angepasst.
Gewicht mancher Items angepasst.
Namen diverser Stencils berichtigt.
Kamaz Transporter zu Beast umbenannt.

English:




http://originsmod.info
---
Mittwoch, 14.Okt 2015 - 21:22 Uhr

Bewertung: Dieser Download wurde noch nicht Bewertet.